How do the FuzziBunz and BabyKicks (1.0) compare?
Absorbency: There is no competition here, the BabyKicks with the Joey-Bunz insert will far outsoak a FuzziBunz with its smaller microfiber insert.
Dry-Feel: Again, no competition. This time the FuzziBunz comes out on top. The bamboo rayon inner of the BabyKicks is not a stay-dry layer; it is highly absorbent even on its own. Wet, it feels like a wet CPF (cold!)
Outer: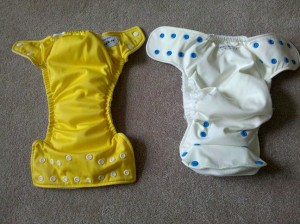 The FuzziBunz PUL feels much thinner than the BabyKicks more solid, richer-feeling outer.
Inner: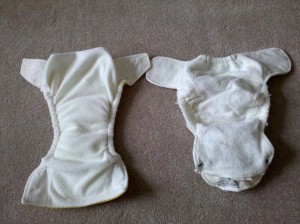 There are 3 types of "fleece" on the inner; one fleece over the body of the diaper, one very soft fleece at the tabs, and one fleece at the leg gusset. The body was initially very luxurious; over time it has become less so, but is still very soft, and as I said, very absorbent. The leg gusset fleece is a very heavy weight, soft fleece, and while it does pill, it has not leaked or wicked.
Insert: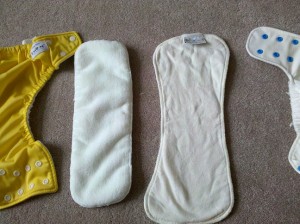 The Joey-Bunz insert that comes with the BabyKicks is undeniably trimmer than the microfiber insert that comes with the FuzziBunz. However, it's much larger in size and will hold much more. Proof that it holds a lot? It takes quite a bit longer to dry than my microfiber inserts.
Diaper trimness: FuzziBunz is much trimmer, however, I feel it gains that trimness by losing lot in absorbency.
Overall impressions:
I have used these diapers each for over 2 months. The BabyKicks was my favorite overnight diaper, simply because it's such a great absorber. I've backed off it as a night time diaper since realizing that there is no stay-dry layer, although that would be easily remedied by adding a homemade fleece liner.
BabyKicks has a new 2.0 version which I have not tried. The improvements should fix my only major concern, namely the size (I felt that the BabyKicks original version was rather small compared to my other pocket diapers, although the FuzziBunz is even smaller). The new size should fit up to 35 lbs, rather than 30.
I love the fleece gussets, although they do pill. I've never had a leak with them, even after a 12 hour night. I do recommend this diaper, but don't expect it to be as trim as a FuzziBunz (it's much more trim than some of my other OS diapers, though). However, you can expect it to work a lot harder