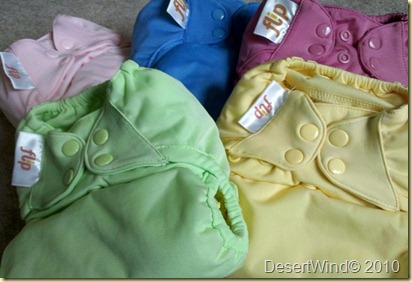 I've sporadically posted on my own blog because I decided to do some writing for Kelly's Closet's blog, The Cloth Diaper Whisper.
When I began my cloth diapering journey, I was not set on any one distributor. I am loyal to Green Mountain for their prefolds, and for the owner's commitment to only sell natural fibers for against-the-bum use. She's been around for years and continues to get top scores for customer service as well as for product quality.
That said, I wanted to try out the stay-dry technologies, and those are NOT natural fibers. Okay, they once were (if you go back and look at the origins of polyester <-plastics <- petroleum <-swamp plants and ocean critters) but saying they're natural is like saying McDonalds "ice cream" is natural. So I had to find another retailer.
I looked at several different stores, and they all had great incentives and advantages. I picked Kelly's Closet out of the bunch because I wanted to shop primarily from one retailer, and I found that I was more likely to find what I wanted there, than from any other retailer.
How does that lead to "writing for diapers"? The Cloth Diaper Whisperer regularly asks for reader submissions. All you need to do is contact them, and they'll send you a list of topics. You're rewarded with Diaper Dollars, which can be traded in for a gift certificate, and hence, more diapers.
The other reason I haven't been writing more of these types of posts for our site is that our blog was never intended to be solely about cloth diapers.  More posts will follow, but hopefully we can shift the focus a bit more towards techie/geek topics in the coming weeks.