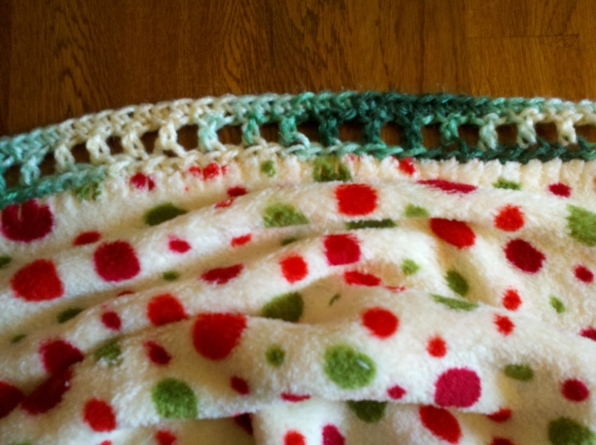 Woohoo – fast and easy Homemade Christmas project. The store-bought throws that are $5-$10 at every store during the holidays often have a whipstitched edge, which works perfectly as a base row for a personalized crochet border!
Talk about an easy AND satisfying first crochet project – lots more useful than making crocheted washcloths and potholders by the dozen.
This border was made with three stitches, the Single Crochet Stitch, and Double Crochet Stitch alternated with a Chain Stitch. Older children will easily be able to master these stitches, and may have some fun creating their own. Here are two video tutorials I found useful. (Yes, you can teach yourself to crochet via YouTube. I did!)
Single Crochet Tutorial on YouTube
Double Crochet Tutorial on YouTube
Chain Stitch Crochet Tutorial on YouTube
This one is headed to a local nursing home, along with a new pair of slippers.