… And so does Boo! He's making his favorite four-legged friends a special present this year.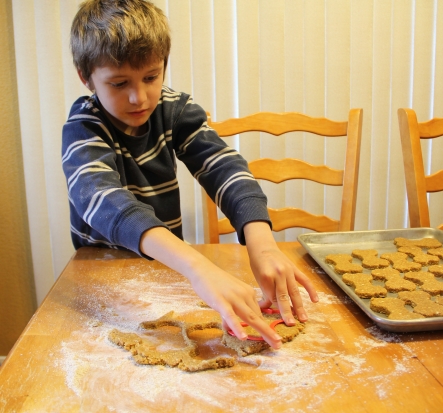 Dog Biscuits
2-3/4 cups whole wheat flour
1 cup oatmeal flour (or oatmeal)
3/4 cup powdered milk
1 cup finely chopped carrot
1-1/2 teaspoons cinnamon
3 tablespoon wheat germ
1/2 cup peanut butter
3 T oil
1 T molasses
2 eggs
1/2 cup ice water
Preheat oven to 350 degrees F (175 degrees C).
In a medium bowl, stir together the flours, powdered milk, cinnamon, and wheat germ.
Blend the remaining ingredients in a blender till smooth.
Combine wet and dry ingredients. Dough should be just wet enough to stick together; add a tablespoon of flour or water if needed to adjust consistency.
On a lightly floured surface, roll the dough out to 1/2 inch thickness and cut with cookie cutters. Place biscuits 1 inch apart onto an ungreased baking sheet.
Bake for 25 to 30 minutes in the preheated oven, until firm. Cool before serving. For a crisper biscuit, after baking, dry the biscuits in a warm oven (200) and turn occasionally till they are as dry as desired.
Modify the ingredients list as needed for special dietary concerns.