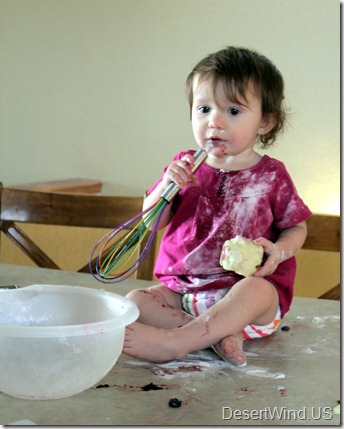 I think kids should help out in the kitchen as frequently as possible.
In order to convince you that this is true and good, I'm sharing a picture of Bug.
Yes, she's covered in flour.
Yes, she has squished blueberries in her toes.
Yes, I had to watch her so closely that the recipe (Dutch Pancakes, in this instance) took about twice as long.
But look at that face. That is a face of pure contentment, and it's a photo-op you can't get in any studio.
My tips and observations regarding young toddlers and kitchens:
Your toddler will need his very own bowl and spoon. Bonus points if you have an extra "neat" utensil to share, like a whisk, or a small rolling pin.
Hold them up to the sink and let them wash the ingredients. Even if you have to re-wash after they leave the room.
For a very young child, a spoonful of flour is enough to "mix". A sprinkle of cinnamon makes the mix smell nice.
My friend's 2-year-old enjoys mixing a 1/4 cup of dry rice around the bowl while we mix our bread dough. After we have dough, of course, we give her a bit to knead.
Give an older toddler a little of each ingredient you are mixing. If the ratios are reasonably close, you can even bake/cook a mini version (as a pancake on the griddle, for example, or if you've given him a bit of bread dough to knead, bake a mini loaf).
If your toddler has the stirring thing down, get her involved with the "real" food. Let her mix the cake batter or pancake batter. Let him beat the eggs.
Take a picture. Take lots of pictures.
Never leave your child unattended, not even for a moment.
While you're cooking together, be sure to sprinkle your conversation with such tidbits as "Oh boy, I can't wait to do the dishes! That's the best part!"
You never know. It might work.