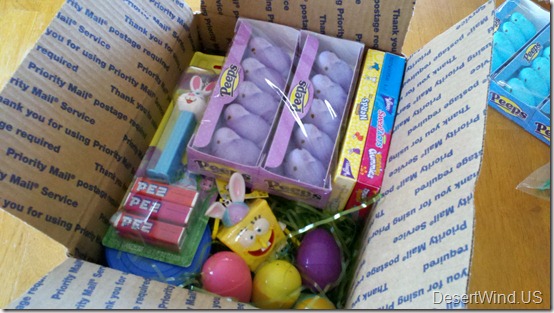 Deployed service members have limited access to a lot of the little things we take for granted, and care packages from friends and loved ones back home really mean a lot.
How to ship? The US Postal Service offers a reduced FPO/AE rate on their large flat rate box. For $12.95 you can mail up to 70 lbs.
What to ship? Well, don't send chocolate (it melts). If you make cookies, make sure they're the sort that can last a week or four in processing and that they are very well packaged. For more suggestions, check out this list.
Who to ship? Haha, just seeing if you were paying attention. You can't mail yourself – 70 lb weight limit, remember?
With social media becoming so popular, we are much more likely to know when our cousin, old high school buddy, or friend's husband, ships out, than we were even 5 years ago. Get an address before they ship out, and make a note on your calendar to send something out at the "halfway point" or a major holiday.
More ideas:
For fun, try sticking to a theme.
Unofficially, you (or the kids) can decorate the flat rate boxes as long as you leave the shipping information area clear.
Sending off a  Reverse Care Package for the spouse and/or children of a deployed service member is a very special sort of kindness.