Alternatively entitled, "1001 Uses for Old Taekwondo Boards, Use #1"
Our son, like every other child in his Taekwondo class (so I hear), has an under-bed full of these boards. The sheer joy derived from breaking them evidently grants the boards immunity from ever being discarded. This leaves us with a lot of boards which, incidentally, float.
Materials for Propeller Raft:
Lightweight wood, such as balsa wood, or if you happen to be so lucky, board-breaking boards from Martial Arts class.
Straightedge, such as a ruler. We used the edge of an envelope. 'Cuz we're flexible like that.
Propeller – ours came from the Party store, and is the type you'd find for 5/$1.00 at the dollar store.
Rubber bands
Glue
Screw Eye/ Eye bolt
Pocket knife, exacto knife… something sharp but non-lethal.
Straw
Cutting a groove for the propeller in both sides of the wood (we used the straight edge to make, well, a straight edge for the groove):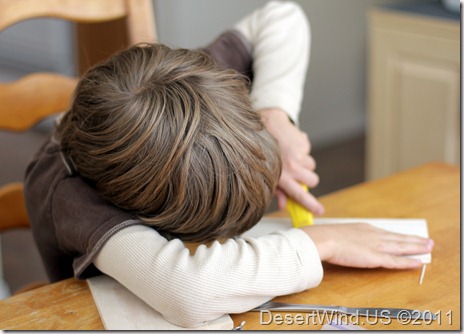 After Experiment #1 (aka Friction, or, Will the propeller shaft move more smoothly inside the wooden groove, or inside a straw? Straw, totally.), gluing a straw into the wooden groove: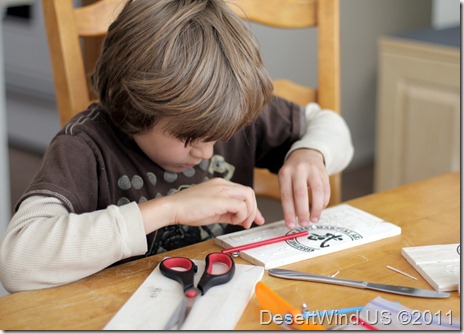 Missing steps include (and not necessarily in this order):
Insert a screw eye into the end of one of the wood bits. If you look closely, you can see the screw eye underneath the straw in the above picture.
Loop a rubber band through the screw eye.
Glue, and when the glue completely fails to hold, rubber band the two bits of wood together such that the straw cannot come loose.
Insert propeller shaft into straw
Here, Andrew puts the rubber band around the propeller blade: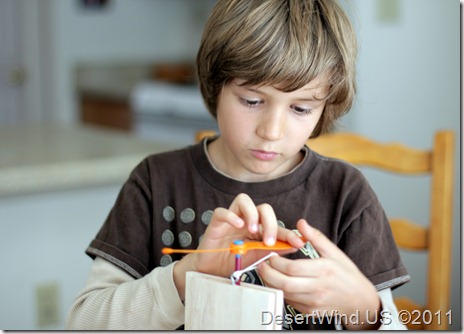 Twists, and then lets go: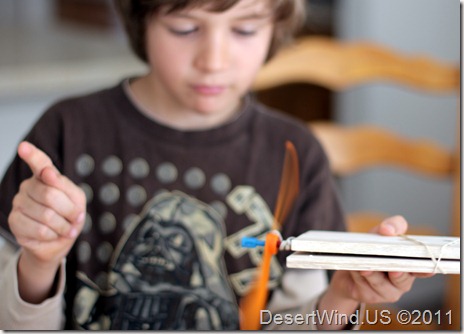 And to the tub, where we try for experiment #2 (or, Which will go faster, the raft with a truck, or without a truck?), and find out that Murphy's Law ALWAYS applies to experiments (it was very difficult for Boo to wind the propeller and balance the truck at the same time). Lucky kid, I didn't learn that lesson till grad school.