*Previously published on The Cloth Diaper Whisperer* I am the original author.
I developed a bad habit in my former life as a 'sposie user. Time and time again, I've seen parents leave a disposable diaper on the baby "just a little longer" -and I'm embarrassed to admit I was guilty of this – because it's "not that wet".
The truth is, even the "stay dry layer" doesn't leave the baby dry. More comfortable, yes, than no layer at all, but not dry. Of course, a parent could get away with less frequent 'sposie changes because superficially the baby seems dry (that is, their jammies aren't sopping yet), but just because those disposables absorb more fluid than most children can produce over the course of a few hours doesn't mean we need to play a game of chicken with the diaper to see who will give in (give out?) first. There was an episode of Malcolm in the Middle where the dads had a contest to see whose baby's diaper weighed the most. It was funny on TV (I just loved Malcolm in the Middle) but not so funny in real life.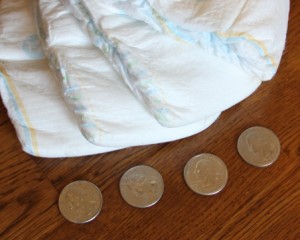 How did so many of us come to believe that it's okay to let our babies sit in their own urine for extended amounts of time just because the disposable "doesn't feel that heavy"? I believe that the high cost of disposable diapers has trained us to change diapers less frequently in a twisted desire to get the most value out of our purchase. Disposables run $0.20 -$0.30 each (that's the cost of an entire roll of toilet paper!), so changing just a few extra 'sposies per day can cost an extra $20 -$40 per month (and for bigger families, just multiply that by the number of children in diapers). That's an entire mega-case of 'sposies every month! That's a few trips to Starbuck every month. As parents, we try to be frugal, and since advertising has convinced us that disposable diapers stay dry next to baby, we tell ourselves that it's an acceptable (and even sensible) practice to wait until a diaper is noticeably wet before being changed. The bad habit becomes ingrained and can be unconsciously carried over to cloth diapering.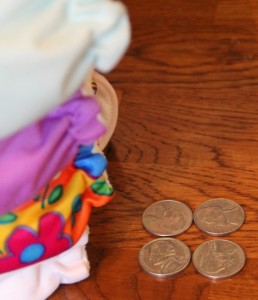 If this sounds like you, free yourself of your bad habit! You are no longer at the mercy of your $0.25 'sposies! The cloth diapers are already paid for and they are re-usable. In fact, the MORE you use your cloth diapers, the more value you get from them! (If you spend $500 on your cloth diaper set-up and change an average of 10 times per day for 2.5 years, your diapers cost a nickel per use). Let's wipe, er, eliminate, er… DISPOSE OF the phrases "not that wet" "not that full" and "only a little wet" from our vocabularies.
Tip: One way to get an idea of how often your baby really wets is to put her in a coverless fitted, pinned prefold, or pinned flat for a day (or for a few days). Try to base your changing habits on the results of that experiment, rather than your experience with disposables.