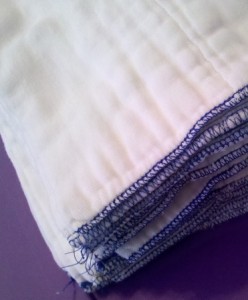 I just can't do it – I can't cut my blue-edge CPF's.
I really, really love my blue-edge CPF's. CPF's, for the uninitiated, are Chinese Pre Folded diapers. I just found out that I can't even get these (exact) diapers anymore; Green Mountain Diapers shares that they've been discontinued. They've been so useful over the years, having gone through a part-time cloth diapering stint with my (now 7 years old) son, two nieces, and two nephews. They have had a varied and productive career, serving as burp cloths, impromptu nursing pads, and changing pads, persistently earning their keep even when "this cloth diapering thing" wasn't working out.
Bottomline – I haven't convinced myself to cut into my precious blue-edges, but I have to admit that I'm becoming tempted by these tutorials:
These make a gorgeous, "lux" fitted that rival most purchased ones.
This tutorial presents a much more basic prefold-to-fitted conversion.
Neither require a serger.