This idea came from the Best of Beakman's World videos. Our son started watching them because I told him he wasn't going to be sitting in front of the TV all summer.
He negotiated: Even if it's educational? What about Beakman's World? And Liberty's Kids?
My counter: Okay, you can watch Beakman's World, but you have to do some of the experiments, too.
Son: And then I can watch Top Gear and Mythbusters.
Sigh.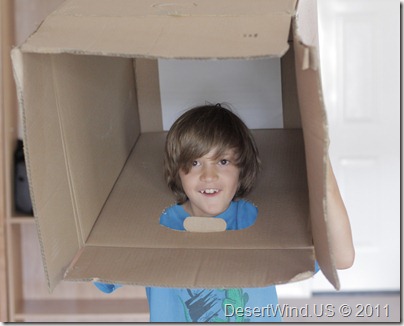 1. Cut a hole big enough for your head to go through a large box, slightly forward of center.*
2. Tape a piece of white paper on the panel furthest from your head-hole, on the inside of the box. See it (above photo) back there?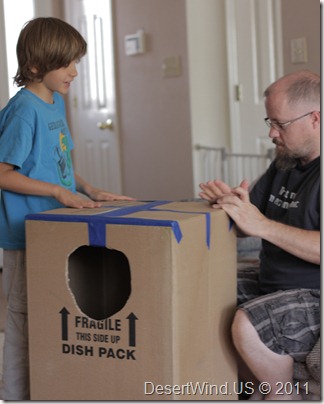 3. Tape up ALL the seams with a light-blocking tape like masking tape, or the ever useful Duct Tape.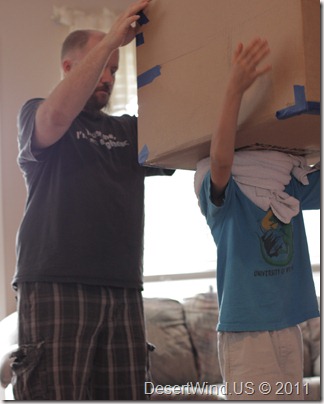 3. Wrap a towel around your child's neck, and place the box over his head. Check for stray light; if he sees any, repair it.
4. After removing the box from your child's  head (muy importante, ¿no?), use a nail to poke a small hole in the panel opposite from the white-papered side.  Poke the hole higher up than the level of your head.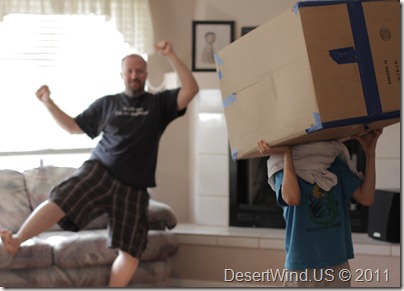 5. Re-wrap the towel, replace the box over head (so that the boxed-person is facing the white paper) and observe the upside down images of whatever might be taking place behind you.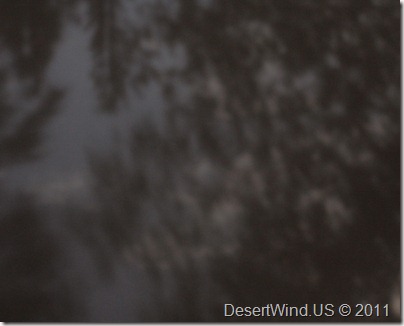 We personally enjoyed the outdoor images best. The above photo was collected by placing our camera INSIDE of the box and remotely snapping the picture. (It's a photo of tree branches and leaves).
*Not a typo. Make it big enough for YOUR head. You'll want to check it out.
How does it work (simplified)?
We see things when light bounces off of them. The light bounces off in every direction.
When the light bounces off of Dancing Dad, a tiny bit gets through the nail hole in the cardboard box, and we see that reflected light as a reversed (and pretty dim) image on the white paper taped inside of the box:
This is exactly how a pinhole camera works, and I urge you to check this site out if you'd love a great summer project:
http://users.rcn.com/stewoody/
Take it to a whole new level, and turn your whole bedroom into a camera obscura – just block all the light coming into your room except for a small hole from the window, wait for your eyes to adjust, and watch the opposite wall/ceiling to see what's going on outside:  from http://commonsensephotography.com/camera_history_and_a_light_concept/index.php